About the Challenge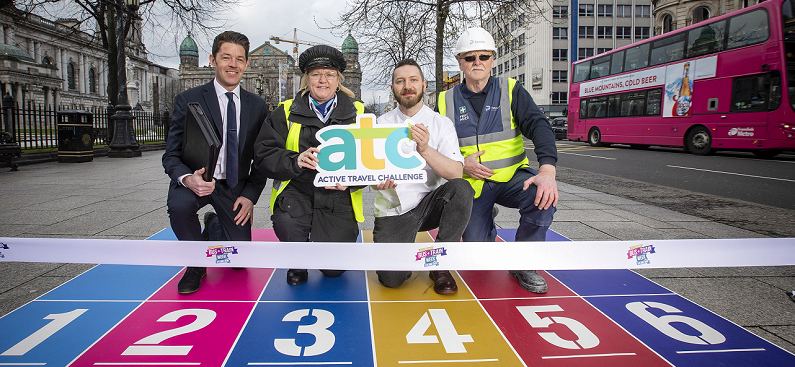 The Active Travel Challenge is a great way to get active this September!

This is your online tool to get motivated and challenge yourself to walk cycle or take public transport for more of your everyday journeys from 1 to 30 September.

It's a 4 week Challenge and we want to help you leave your car at home, get active and help keep our villages, towns and cities clean and fantastic places to live and work.
What is the Challenge?
Everyone from any organisation, workplace, or community group in Northern Ireland can take part. Register today and start logging your journeys from 1 September.

You can log any journey whether it's your regular commute, trip to the shops or leisure activity, the school run or business trip. If you are working from home you can also record your walking or cycling activities! All these journeys can be logged and we will be encouraging you every step of the way.

The Challenge is free to join, and simple to take part in. Compete as an individual or join your workplace or organisation and set up a team. Take part with your colleagues and friends, set targets and encourage each other along the way.

We will send you a regular e-newsletter with news and some great tips as well as giving out prizes along the way. Don't forget to claim your rewards too for some great discounts and offers!
Why take part?
Take part because we are able to move around more freely again, and it's a great way to get active this autumn. Try some new ways of getting around!

We've got some great prizes to give away this year, and you can track all your progress on your own personal dashboard, enabling you to challenge others. You can also access some great rewards and interact with friends and colleagues all over country.

Cycling, scooting running and walking on your commute and for local trips are brilliant ways of incorporating exercise into your day; whilst public transport and lift sharing, where appropriate, are great ways to reduce congestion and can save you money. All this helps you get fitter, feel good, and do your bit to keep Northern Ireland's air clean!
Which journeys count?
Any journeys to work or for work that are carried out on foot, by bike, public transport or car-share all count.

Trips to the shops, to a leisure activity, taking the kids to school, or to do a walk, jog, run, or cycle 'loop' at lunchtime to keep active also count!

Log your activity daily to help your team or organisation climb the leaderboard!
How do I win?
Organisations

The winning organisation in each size category will be the one that has the highest level of participation.

Get your colleagues involved and encourage them to leave the car at home and get active to get to work, or to get exercise during the working day.

Logging just one journey is enough to be included as a participant, helping your team to climb the leaderboard. Hopefully, you will be encouraged to get out and give it another try!


Individuals

Remember that to climb the leaderboard you must make and log lots of journeys rather than a small number of long journeys. We want to see you making regular changes to your commuting and business journeys. We will be celebrating your success with weekly focused prizes along the way, as well as putting the top 10 from the leaderboard into a grand prize draw at the end of September.